have fun
while learning
We always strive to bring to our students the best learning experience, mean while maintaining high level of fun and etertainet.
pay per class

Pay as you go

£

11.50

No commitment 
Flexible 
Happy customers
Billed monthly

Monthly membership

£

33.50

Best value 
Grading program
Progress book 
Special discount 
Happy Customers
pay per class

Private classes

£

28.50

Personal approach 
Fast development 
Training tips 
Happy Customers
Pre-covid, my son was an active member of Free Spirit, attending sessions twice weekly. Parkour with Denny was not only a healthy physical challenge for my overactive son, but also a place where he felt safe, supported and befriended. I would recommend Free Spirit and the head coach Deni's positive influence over young people, male and female alike, to all parents, guardians, or carers.
Excellent well run varied sessions. Deni the head coach, interacts exceptionally well with the kids and teaches with patience and fun. My son Jack learnt new skills in a very short time and really enjoyed himself.
My son who hated all team sports loved these classes. Instead of being scrutinised from the side lines of a football or rugby pitch he was able to work at his own pace and was supported through all stages of his development. Deni the head coach is a fantastic role model for the youngsters and gives them nothing but support and encouragement which helped build my sons confidence.
The head coach Deni is a fantastic parkour teacher. He is highly passionate and this just shines through to the children he teaches. He is extremely supportive with the children and encourages them to be their best self. Not only does Deni encourage children through their parkour skills he develops their confidence and overall well-being too. He really is a special human and I cannot thank him enough for the support he has given my son over the years.
EXPERIENCED Coach
Our head coach Denislav has 15+ years of experience in the parkour discipline and 7 years of coaching. He is Level 2 qualified, DBS checked and with current First Aid and Safeguarding certificates. Very positive, energetic, and great with children and adults alike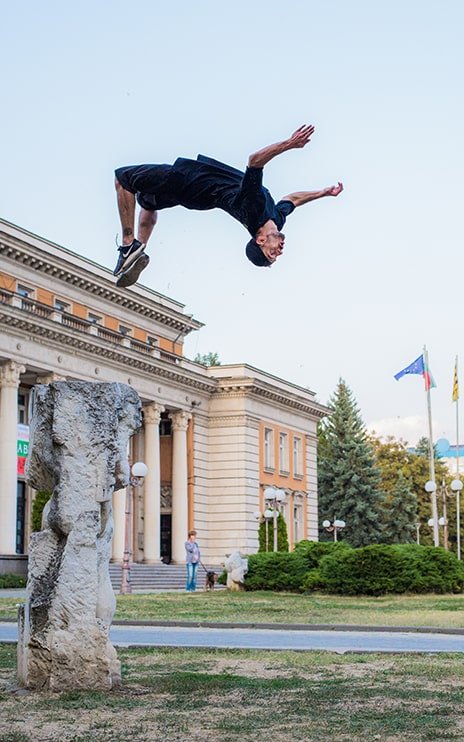 Founder and head coach
Denislav Stoynev
ASK US ANYTHING
We will be happy to answer all of you enquiries. So if you have questions please, do ask.